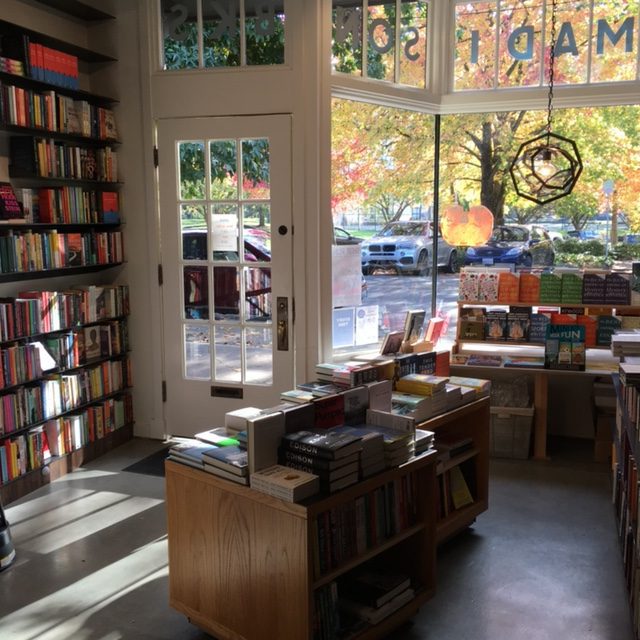 Bookshop Superheroes: Madison Books
August 24, 2021
In appreciation of our local indies who have reinvented their processes and protocols during the past year in the service of getting the just-right book into the just-right hands, our Bookshop Superheroes blog series features interviews with our partner bookstores. 
This week, we're featuring Madison Books, who took over our Instagram today, Tuesday, August 24!
Madison Park, a neighborhood on the shore of Lake Washington, is one of the older—or at least the most unchanging— parts of Seattle. Madison Books, barely more than a block from the beach, is one of the newest things about it, having opened in the spring of 2019, though it already feels like a permanent fixture. It may have the smallest footprint of any bookstore in town, but it magically seems much bigger inside. General manager James Crossley, a member of the Pacific Northwest Booksellers Association Board of Directors, tells us about the best aspects of his job and the best books of the season.
---
How have you coped and pivoted since the pandemic?
How haven't we? First there were the months when we couldn't allow anyone in the store at all, employees or customers, and had to rely on home delivery. Then there was the curbside pickup phase, then the long stretch when only one shopper at a time was allowed inside. Then vaccines became widely available, restrictions were lifted, and we enjoyed a short summer of relative normality. Now we're encouraging masks again and it looks as if we may all be hunkering down again for the coming fall. But we'll keep doing what we've been doing all along, whatever we can to spread the word about the books we love and get them into our customers' hands.
Independent bookstores have long been resilient, innovative operations, which I don't think many people realize. Books are an ancient, well-nigh perfect technology, but everything else about the business changes all the time, so we were better equipped than most to deal with the curveballs of the past year and a half. For example, we were early Zoom adopters, launching an online author event series that proved surprisingly successful. We partnered with two other stores, one in Oregon and one in Montana, pooled our resources and our audiences, and were able to bring in (virtually speaking) writers who never would have found their way to us otherwise, such as John Grisham, Catherynne Valente, and Julia Quinn. Co-creating the Books in Common NW series was one of the best things to happen during the pandemic.
What's your favorite thing about your shop?
First, I think it's a beautiful space–clean, simple architectural lines and gorgeous light through the windows that both accent the colors of all the spines in neat rows. What I really love, though, is that it's a different store every day,  depending on which new books have arrived that week, which bookseller is working behind the counter, and which customers have walked through the door. This is a physical place, sure, but the real Madison Books is what happens when those things come together. Kind of like a jewel that shows new facets every time you turn it over. Or a better metaphor might be the old story about the blind men and the elephant. Keeping everything in a bookstore in order often feels like tidying up after an elephant.
What books or book events are you excited about right now?
Well, we're hosting an in-person author visit next month for the first time since 2019. We'll have a nice open set-up on Thursday, September 9 so Brian Coleman can give us a sneak peak at Private Gardens of the Pacific Northwest. As for books, I've been talking for months about Doireann Ní Ghríofa's A Ghost in the Throat. She's an Irish poet who's published her first book of prose, a memoir about her twin obsessions, motherhood and art. It's stunningly good and probably like nothing else you've ever read. Also very fond of Maggie Shipstead's Great Circle, a novel set partly in Seattle that we were recommending well before the Booker Prize judges put it on their longlist, thank you very much. I'm also very happy that Brian Hall has written his first new novel in some time, The Stone Loves the World.
I'm currently immersed in Miljenko Jergović's massive family saga of 20th-century Croatia, Kin, switching back and forth between it and the books in André Alexis's highly imaginative Quincunx Cycle, including Fifteen Dogs and Days by Moonlight. And I can't wait to start recommending Lauren Groff's Matrix and Richard Powers' Bewilderment to people when they come out in September.
---
Thank you, James and Madison Books!