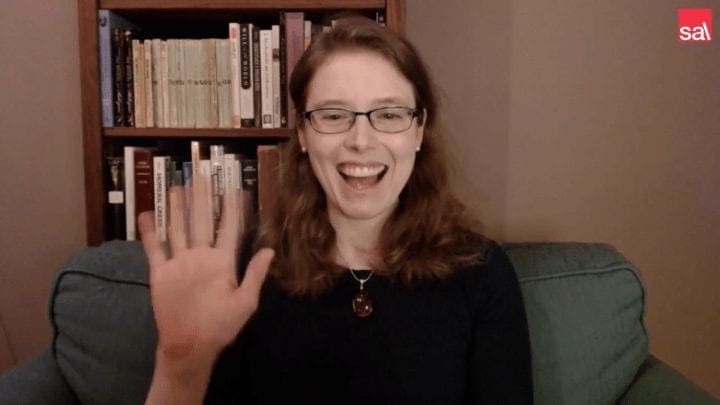 Introductions: Madeline Miller
January 29, 2021
By Ruth Dickey, SAL Executive Director
In one of my favorite passages in Song of Achilles, Madeline Miller writes of the first time that Patroclus hears Achilles play the lyre:
His fingers touched the strings, and all my thoughts were displaced. The sound was pure and sweet as water, bright as lemons. It was like no music I had ever heard before. It had warmth as a fire does, a texture and weight like polished ivory. It buoyed and soothed at once.
Not only is this a gorgeous description of music and of the first flickers of love, but also of Madeline Miller's bewitching and beautiful prose, which transforms what we thought familiar into something extraordinarily new and transfixing—the Iliad reimagined as an epic story of queer love in The Song of Achilles, the Odyssey re-centered in a story of a woman's strength, agency, and resilience in Circe. I have never read Greek mythology like this, as Ann Patchett described it, "An epic spanning thousands of years that's also a keep you up all night page turner."
Madeline Miller is the author of the New York Times bestselling The Song of Achilles, which won the 2012 Orange Prize, and Circe, which rocketed to number one on the New York Times bestseller list and was named Indies Choice Best Adult Fiction of the Year and Best Audiobook of the year. Circe was also shortlisted for the 2019 Women's Fiction Prize, has been translated into over 25 languages, and is currently being adapted by HBO.
Please join me in welcoming the author of these delicious novels that bring us classic stories in freshly-reimagined and irresistible ways, Madeline Miller.
---
Madeline Miller gave an online lecture on January 27, 2021, as part of our 2020/21 Literary Arts Series; SAL Executive Director Ruth Dickey delivered this introduction.